2870 Forbes Avenue
Hoffman Estates, IL 60192
CATEGORIES & HEADINGSdetails >>
HBS is your source for clinically proven, sustained-release technologies - available in fully formulated products or as functional ingredients for your topical dermatology product line. HBS technologies include Microsponge®, Polytrap® & Poly-Pore® microparticle delivery systems along with the new all-natural Microsponge® N delivery system.

HBS sustained-release ingredient technologies include:
• Retinol (BHA –Free)
• Benzoyl Peroxide
• Salicylic Acid
• Glycolic Acid
• Hyaluronic Acid
• Tretinoin
• Flurouracil

HBS is a fully integrated finished product manufacturer with cosmetic, OTC and Rx manufacturing capabilities and experience. Expertise includes:
• Retinol-based anti-aging – efficacy with reduced irritation
• Proprietary wipe technology – cosmetic & OTC
• Skin lightening – both HQ and HQ-free options
• Acne Treatment
• Sunscreens
• Skin protection (OTC) & hydration

AMCOL® Health and Beauty Solutions, Inc. (HBS), a division of Minerals Technologies, Inc., develops and markets proprietary microparticle delivery systems, rheology technologies and finished products that contain these technologies that drive the performance of products for dermatology & skin care.

Vendor Showcase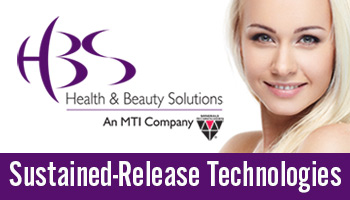 HBS is your source for clinically proven, sustained-release technologies - available in fully formulated products or as functional ingredients for your topical dermatology product line. read more