1642 McGraw Avenue
Irvine, CA 92614
CATEGORIES & HEADINGSdetails >>
Laser / Phototherapy //
Pharmaceutical //
Dermaculture was founded over 70 years ago by a German scientist and chemist by the name of Dr. Paul Meminger. Combining his knowledge of both medicine and science, Dr. Meminger developed a skin treatment system that offered dramatic results to problem skin. The central feature of Dr. Meminger's technology was the application of electrical currents to treat the skin. He used this electrical current (commonly known as a galvanic current) to introduce vitamin rich solutions into the skin.

Dr. Meminger soon discovered that this combination of electrical current and vitamin rich solutions brought dramatic physical changes to the skin. Such changes he found helped to cleanse, hydrate and rejuvenate dermal tissue. Following Dr. Meminger's discovery, a galvanic treatment machine was designed and developed, now known as the Iderm® Deep Skin Ionization Process, a proprietary technology owned by Dermaculture, along with a full line of specialized skin care products. Today, this process is known in the medical field as iontophoresis. Iontophoresis and galvanic techniques are widely used today in the skin care industry and are taught in many schools of cosmetology.

In 1937, Dermaculture was incorporated and shortly thereafter, a partnership was formed in California to engage in the business of franchising and licensing Dermaculture clinics. Today, the company licenses its trade name and proprietary Iderm® Skin Treatment technology to skin care professionals across the country and continues to develop and distribute a complete line of skin care products.


Vendor Showcase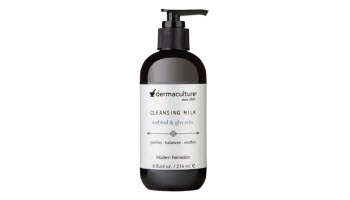 This perfect, creamy purifying wash is a solution for thinner, normal to dry skin types combining time honored hydrating Sorbitol with Glycerin, a vegetable extract that helps soften and condition, while cleansing and maintaining the skin's delicate acid mantle balance. read more